LAST TWO WORKSHOPS OF THE YEAR!
.. As there will be NO CLAPTON WORKSHOP this month 🙂
Last two chances to turn your ride into an aerodynamic Santa's sled, so come along on the dates below!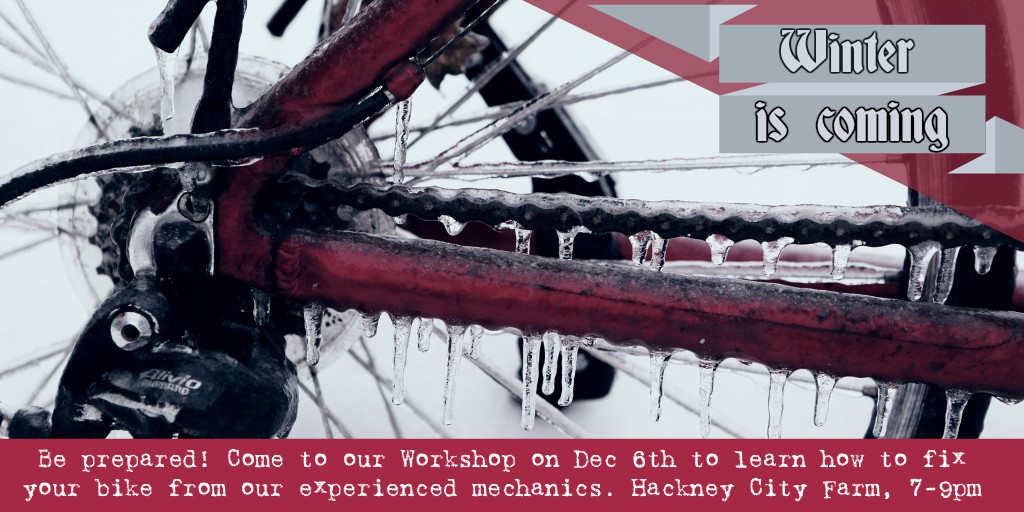 The dates for our December workshops are:
Tuesday 6th December – Hackney City Farm, 7-9PM
Tuesday 20th December – Hackney City Farm, 7-9PM
Do arrive as early as you can to ensure we can help you. Contact us in advance if you have any queries!
Also, we have introduced a new bike fitting method to our Pay What You Can fitting advice sessions.  Just as having the right posture improves your overall health and wellbeing , cycling on a bike that fits you properly will give you a more comfortable, natural ride and reduce discomfort, pain and even injury. We are already booked for December, but get in touch to book a slot and we will try all we can to get you in the best riding position!
As usual, we are all enthusiastic volunteers: we do not receive any regular contribution towards our running costs, and we must pay ourselves for rent and tools. We would really appreciate if you could donate generously on the night!
Finally, Hackney Bike Workshop is still looking for new volunteer mechanics. As we are getting quite a few more cyclists through the door, so we would love to meet new volunteer mechanics, especially for our Wednesday session in Clapton. It is a great opportunity to cement your skills and perhaps to pick up a few news one, so, come along!
Oh, and whatever you do this Holiday season, Hackney Bike Workshop wishes you a great one: Happy Holiday Cycling!